CONGO
Congo was chosen as central element for the accomplishment of this espectacle because it is one of the most important cultural manifestations of Espírito Santo.
INDIGENOUS
The presence of indigenous figure in this project is due to the fact, according some historians and folklorists, congo has its roots in the indigenous culture with the INDIGENOUS BANDS and gradually elements of the African and European culture were introduced. Currently congo is considered as a syncretism of these cultures.
DANEC AND PUPPETS 
Dance is movement and moviment is life. The movement without words is like a universal language. With it we can say more than words. Marionettes will come to life in the actors' hands acting the congo trajectory  since indigenous band era up to our days.
ELECTRONIC MUSIC 
Electronic music is a contemporary era symbol, however its inspiration comes from old rhythms. In our project, we will gather electronic music live (DJ) with the congo musicality from alive congo.
GRAFFITI
Graffiti is a genre of art irreverent which allows the artists to overcome in a short period of time. Three distinctive graffiti artists from favela will create live scenography with their drawings during the presentations on stage.
MOVIE
The project will also allow three youngsters to experience recording all the spectacle development. They will receive some basic guidances on how using the equipaments, but they will have freedom to record on their way. The intention is to know how will be the view of these youngsters about the spectacle.
JUSTIFICATION
By promoting the interaction between communities with different lifestyles through the art, the project will promote the artistic identity, will evolve the citizenship of these communities valuing its culture and will allow free access to these cultural goods once the performances will take place in open and free areas, thus the target audience will be people from all groups and ages.
WORKSHOPS
The first stage of the project is the achievement of training workshops for the actors team and for the preparation the parts of the spectacle.
WORKSHOP OF MARIONETTES CONFECTION
BARRA DO JUCU – Maria Goretti Medici / Peter Serge Butko
WORKSHOP OF MARIONETTES MANIPULATION,  STAGE MOVEMENT AND DANCE
VITÓRIA – The dance and marionettes workshop will be held by Peter Serge Butko, director from Czech Republic. Participants: actors and dancers from Vitória.
CONGO WORKSHOP: HISTORY, INSTRUMENTS TOUCH AND DANCE
FORTE SÃO JOÃO – The congo workshop will be held by Beatriz dos Santos Rego e Maria Goretti Medici Macedo, members of Banda de Congo Mestre Honorário. Participants: favela youngsters.
WORKSHOP WITH MOVIE
PLACES WHERE THE SPECTACLE WILL HAPPEN – The workshop will be held by TV professionals: Deyvison Reis / Peter Serge Butko.
Recording the documentary about the project. Participants: favela youngsters.
FINAL COMPOSITION OF THE PROJECT
PERFORMANCES IN SQUARE / PARK: BARRA DO JUCU – FORTE  SÃO  JOÃO – VITÓRIA
The performance will happen in an open space where in the center will be actors and dancers with theirs marionettes, in the background and in the sides, will be three panels where graffiti artists will make their arts live and, around the space, the music represented by the alive congo, in other words, the traditional congo allied to electronic music DJˈs.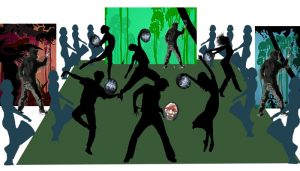 DOCUMENTARY MOVIE
Next Picture producer will produce a documentary movie about the whole project development which will be introduced to National Television of Czech Republic. The movie also will take place in many festivals of documentary movies in all the Europe.
---
SCHEDULE
21 – 25 August
PREPARATION OF THE TEAM FOR THE PROJECT
Creative meeting with everyone inside the project.
BARRA DO JUCU
24 – 25 August
WORKSHOP OF MARIONETTES CONFECTION
BARRA DO JUCU
26 August – 5 September
CONGO WORKSHOP
Duration: 3(three) hours for each workshop.
FORTE SÃO JOÃO
26 August – 5 September
WORKSHOP OF MOVEMENT AND MARIONETTES
Duration: 3(three) hours for each workshop.
VITÓRIA
6  September
Performance in BARRA DO JUCU
7 September
Performance in FORTE SÃO JOÃO
8 September
Performance in VITÓRIA
---
PROJECT TEAM
From Czech Republic:
PETER SERGE BUTKO – director and producer;
MARTIN KOTECKY – producer of contemporary music;
From Brazil:
MARIA GORETTI MEDICI MACEDO- painter;
BEATRIZ DOS SANTOS REGO –regent of Banda de Congo Mestre Honório, from Barra do Jucu;
MEIRIELE GOLTARA – actress and local articulator (Favela);
DEYVISON REIS – camera operator;
ED BROWN e MONSTRO: graffiti artists;
ALTIERES- Residents association Forte São João;
MARCELO CABRAL- Residents association Romão.
PARTNERS FROM BRASIL
ASSOCIATION BANDA DE CONGO MESTRE HONÓRIO, FROM BARRA DO JUCU, VILA VELHA,ES;
RESIDENTS ASSOCIATION OF ROMÃO AND FORTE SAO JOÃO, VITÓRIA, ES.
PARTNERS FROM CZECH REPUBLIC
NEXT PICTURE – PRODUCER COMPANY FROM PRAGUE, CZECH REPUBLIC;
NATIONAL TV FROM CZECH REPUBLIC;
CZECH REPUBLIC EMBASSY IN BRASÍLIA;
CZECH REPUBLIC GENERAL CONSULATE IN SÃO PAULO.